Reading Time:
3
minutes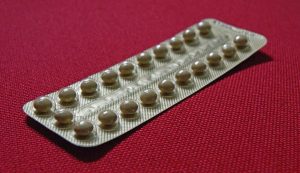 Women have always been put at an unfair disadvantage regarding contraception. The Birth Control Pill has been obtainable since the 1960s, but there's still no equivalent medication for men. For now, the condom is a man's best tool for contraception, but times may finally be on the verge of changing.
Researchers have been working on an effective and safe male contraceptive for decades, and there is a prospective treatment on the horizon. Many women are unable to safely take birth control for health reasons. Women also have much more complicated hormonal cycles than men. Many believe that male birth control is the ideal, as the male endocrine system is less complex than women's. Scientists affiliated with the University of Utah are looking to change the landscape of contraception as they test out a revolutionary form of Male Birth Control.
This new birth control treatment comes in the form of an HRT Gel. Funding for this medical endeavor was provided by a joint venture between the National Institute of Child Health and Human Development and the Population Council.
This Hormone Therapy is designed to drastically reduce sperm count while having no significant impact on male health and libido. Clinical trials for this contraceptive are entering Phase 2. One of the study's lead researchers is Dr. David Turok, the head of the University of Utah Health Division of Family Planning. If this Birth Control Gel for Men is deemed safe and effective by the Food and Drug Administration, men will have a powerful new tool to do their part in family planning.
How Does the Male Contraceptive Gel Work?
The Male Birth Control Gel relies on a combination of two Hormones to provide the desired results. First, Nestorone is used to suppress fertility. Nestorone is a synthetically-derived form of progesterone, which is very effective at dramatically reducing sperm count. While Nestorone works quite well at significantly reducing fertility, it also leads to the near-total suppression of natural Testosterone Production. Nestorone performs the job of contraception well but leaves men's health at risk when used in isolation.
Any effective Male Contraceptive will limit fertility while supporting healthy Testosterone Levels. For this reason, this treatment combines Progesterone with Bio-Identical Testosterone to maintain natural Hormone Balance. This combination works because the Precursors to Testosterone are essential to fertility, but Testosterone is not. Nestorone prevents the production of Luteinizing Hormone and Follicle Stimulating Hormone, along with Testosterone. Adding Prescription Testosterone to the formula protects men's health while still limiting reproductive fertility.
The gel is designed to be massaged into the shoulders for easy application. The contraceptive works as long as the medication is consistently applied, and fertility comes back gradually when a man quits treatment.
Male Birth Control Trial Parameters
The Phase 2 Trial will last for two years and involve 12 monogamous couples that have been together for at least 12 months. Several other requirements are designed to ensure that both partners are fertile at the start of the program. The acceptable age range for men in this study is 18-50 and 18-34 for the women. Men will have their Testosterone Levels and sperm count evaluated throughout the study, along with the general effectiveness of the Birth Control Gel.
The gel is to be applied once every day. It takes time for Nestorone to fully suppress Sperm Count, so couples will be strongly advised to also use other effective forms of contraception for up to six months. After sperm counts reach an adequately low level, participants will engage in sexual activity for a year with only the Birth Control Gel as a contraceptive. After the year of testing is complete, the men will quit using the gel so the researchers can evaluate how quickly sperm count rebounds to normal.
If all goes as researchers hypothesize, this Male Contraceptive will enter a larger Phase 3 Clinical Trial and eventually be FDA-Approved for men to take birth control into their own hands.
Contact Us Today For A Free Consultation
Word Count: 668